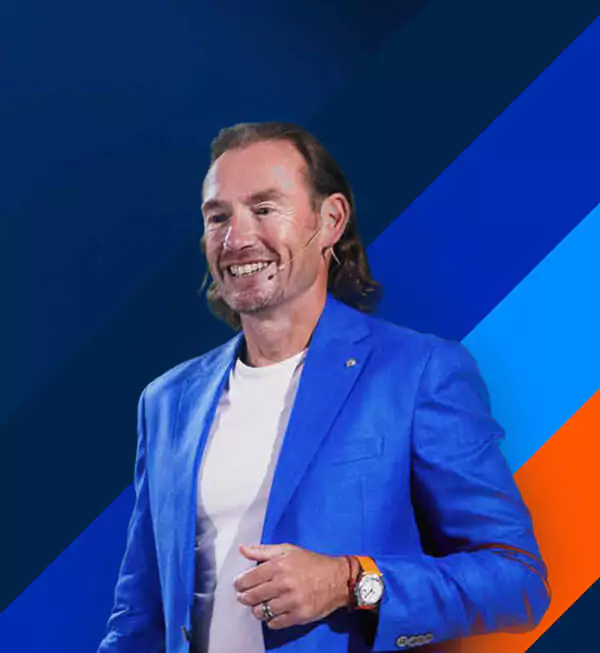 STEVEN'S NO-EXCUSE ATTITUDE AND LIMITLESS APPROACH TO BUSINESS AND LIFE REVEAL A MINDSET THAT IS BUILT TO FINISH.
From closing multimillion-dollar licensing deals with IBM and Microsoft, to the IRONMAN World Championship, to ultramarathons and summit expeditions, Steven Pivnik knows how to go the distance.
"NEVER STOP POUNDING THE PAVEMENT.
IF YOU'RE NOT MOVING FORWARD, YOU'RE GOING BACKWARD."
STEVEN PIVNIK
The Keynote
BUILT TO FINISH: HOW TO GO THE DISTANCE IN BUSINESS AND IN LIFE
As an entrepreneur, you've poured everything into building your business from the ground up. Where others doubted your ability or vision, you persisted. You took risks, made sacrifices, and faced countless obstacles. But now you've made it.
Your business is thriving and reaching new heights. What's next?
Sharing his remarkable story as a college dropout turned tech entrepreneur turned triathlete turned international keynote speaker and best-selling author, Steven guides attendees on an unforgettable exploration of what it means to be "built to finish."
---
After you hear his keynote, you'll either want to start strategizing your next business move or begin training for your first Ironman. But most likely, you'll probably want to do both.
FOR ENTREPRENEURS, OR ANYONE WANTING TO LEAD AN EPIC LIFE, THE FOCUS ISN'T ON JUST STARTING OR FINISHING.
IT'S ABOUT FINISHING WHAT YOU STARTED.
Through international speaking events, 1:1 advisory services, and his newly released book, "Built to Finish," Steven coaches entrepreneurs through the mindset and practical steps necessary to achieve a successful exit, one of the seven summits (yes he's done several), compete in an IRONMAN championship, or any other challenge they set their sights on.
Regardless of the endeavor – planning, perseverance, execution, pivots, setbacks, and endurance are key milestones to reaching the finish line. Now grab your running shoes and gear up for a transformative journey with Steven Pivnik as your speaker at your next event.
"THE MAGIC HAPPENS IN THE TRENCHES,
SO ROLL UP YOUR SLEEVES AND PITCH IN."
STEVEN PIVNIK
BEEN THERE, DONE THAT,
WROTE The book
In his best-selling book, Built to Finish, Steven outlines his entrepreneurial journey in the IT marketplace, from failed startups to multi-million dollar success. He hilariously recounts the ups and downs, wins and losses, and personal breakthroughs experienced on the summits of some of the tallest mountains in the world.
With a blend of humor and vulnerability, Steven shares the valuable lessons he learned along the way and provides practical guidance for entrepreneurs who want to go the distance in business and in life.