Arches and Zion National Park, Moab UTAH and Vegas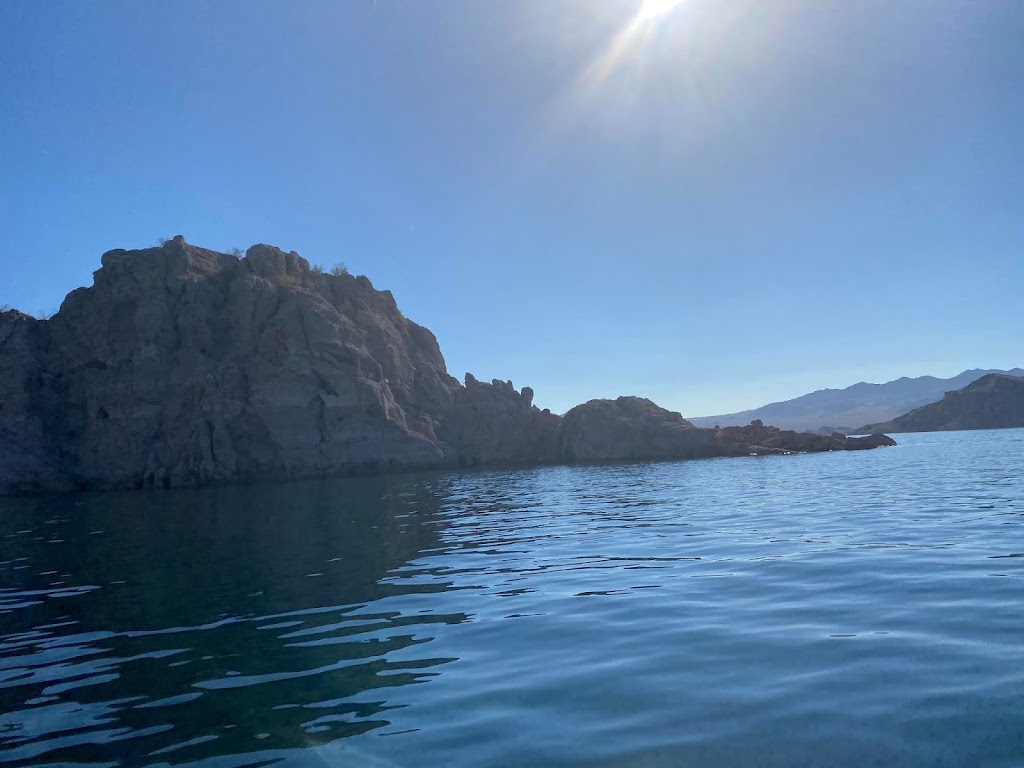 Last month I had a fun adventure to Lake Meade, Bryce Canyon and Zion National Park. I left with some unfinished business in Zion that you'll read about down below. After hearing about it, my wife agreed to go back with me the following week. So a week later it was back to Zion with a stop in Moab and Arches National Park for a few days bookended by two more nights in Las Vegas.
4 cross country flights, over 1,600 miles of driving, 2 nights in a tent, several gourmet meals, an excellent bed and breakfast, a cool lodge, some epic hiking, endless breathtaking natural scenery, awesome Vegas views and a glorious summit of Angels Landing is what I will cover here with about half of the 420 pics taken. Frankly they don't do these destinations justice but I hope you enjoy anyway.
The first part of this adventure started with a slightly delayed but uneventful flight from Newark to Vegas. On final approach the views of my upcoming first stop, Lake Meade, got my juices flowing and the feeling of stress relief was around the corner.
Being a frequent visitor of Lake Meade I knew exactly what to expect and as always it did not disappoint. I rented a boat at Las Vegas Boat Harbor and enjoyed several hours of perfect weather, great views, just right water temps and overall serenity. I think this lake is Vegas' best kept secret because it is never crowded. I highly suggest taking the short ~1hr drive out there and renting a boat for a few hours or half day. Pack snacks and drinks and you will have an excellent time. Drive out to the middle or into one of dozens of private nooks, shut the engine, jump into the crystal clear water or just sit back, crank up your tunes and enjoy.
Water level decrease is very visible

All boats are due back by 5:30 PM or face a $3 million dollar fine. I obliged, paid for the gas used and it was off for a quick overnight at the Encore on Las Vegas Boulevard. Dinner at Mizumi was really good. Sorry, no food pics as my mind was already on Utah.
With jet lag on my side I had a very early start to a 4 hour 264 mile drive to my first stop, Bryce Canyon. Every driving leg of this trip was long and sounds arduous but it was anything but. I tried snapping as much pics as possible but my ride didn't have autopilot so I needed to concentrate on the road most of the time.
My bad ass Ford Ranger 4×4 rental
My first order of business at Bryce was to find a campground to spend the night. I didn't make any reservations figuring that winging it would add to the adventure. The visitors center pointed me in the direction of the in-park campground and another one right outside. The 1st had no availability but there was plenty of tent spots available at the second.
For $28 I had my own parking space, space for a tent, fire pit and picnic table and access to toilets/showers only 50 yards away. What more does a man need?!? I quickly pitched my tent to mark my spot and headed out to explore the park. Bryce is mainly explored by driving the main road through the park and stopping at numerous look out points that feature spectacular views of the red rock formations below. These pics speak for themselves.  
With exploring out of the way it was time for some hiking. The most popular trail at Bryce is called Queens Garden/Navajo Loop which runs through the most spectacular section of the park. This moderately difficult trail takes in outstanding views from the rim and then descends along ridges into the canyon and meanders among towering red rock formations.
With sunset approaching it was time to head back and stock up on supplies for dinner. I didn't pack any real cooking gear so my options were very limited. The pic below shows what I came up with. Best way to cook potatoes on a fire is to let it burn for a while fist, wrap the tatoes in foil and put them on hot ambers. It's takes a while because they're so dense but boy is it worth it. Baked potatoes with hummus and carrots, paired with a local IPA, served under the stars by an open fire. If that doesn't generate great Yelp reviews I'm not sure what will.
It got pretty chilly at night. It went down to the 30's but was quite warm in my sleeping bag. My preparations with an ample supply of wet wipes would prove for naught as the showers were plentiful and super clean. Still benefiting from jet lag, it was off to Zion in the early AM after getting some gas and a banana for breakfast. Here are some pics from that 2 hour 86 mile ride.
Zion Nation Park has two entrances. Coming from Bryce, the East entrance is closest. After paying the $35 entrance free (good for a week) you start seeing nature's amazing creations in this part of the world. Turns out this is just a teaser for what's to come.
After a few miles you enter a short tunnel followed by a longer one. The tunnel is pitch black. Sunglasses must be removed to make it through safely. During the 1/2 mile or so you will see glimpses of what awaits through openings in the tunnel wall.
You exit the tunnel at the top of Zion Canyon and drive through winding switchbacks that will make anyone with the slightest bit of acrophobia nauseous. Once at the bottom, you continue to make your way 10 more glorious miles to the visitors center at the South Entrance.
Like at Bryce I inquired about campgrounds for the night. I was told the in-park one had no availability and was given a list of 10 others to call. After 8 "no vacancy" responses I was getting ready to find a hotel room, no!!!!!, or get comfy in the pickup. Call number 9 yielded success but was 33 miles away. I was on a mission to camp so I made my way back through the park, enjoyed the same awesome sites from a different direction and perspective and set up my $20 spot under an apple tree at Bauers Canyon Ranch in Glendale, Utah. I was so eager to get back to the park and hike that I didn't take any pics. Fire pit, tent, my truck….nothing new really. But the office was interesting:
My hiking objective in Zion was a trail named Angels Landing recommended to me by a friend. What my friend failed to tell me was that the trail head was in an area of the park only accessible by shuttle buses from the visitors center. These shuttle bus passes need to be reserved weeks in advance as Zion is experiencing record tourism to the tune of 500,000 visitors a month.
I learned that I was SOL for tickets and my only choice was the last hop on, standby shuttle runs that start at 3 PM. Upon arriving to a pretty long line at I also learned that the last shuttle back from the trail head was at 7:15. Due to the long line and limited riders allowed per bus I didn't get to the trail head until after 4. The tourist guide says this is a 4-5 hour hike, is very strenuous, steep with exposure to long drop-offs with 1,500 of elevation gain. I had just over 3 hours before the last shuttle and risked a 6 mile walk back to my truck at the visitors center but decided to give it a go.
I made it to the beginning of the chain supported section (more on that in part 2) in just over an hour and then saw what lay ahead. You have you try and zoom in on the 1st pic below and see the tiny images of people on the final half mile super steep section to the summit.
The lack of acclimatization and better judgment got the best of me and I turned back. As much as I wanted to summit, I really didn't feel like rushing back down afterwards, risking injury, death (7 people in recent history) and walking an extra 6 miles in the dark with no head lamp back to my car. I got back to the bottom, found a riverside return section of the trail, took one more look at the top and vowed to return. Little did I know that it would so soon.
Unlike the touristy town of Springdale by the South Entrance, the East Entrance has very little civilization aside from a gas station, one hotel and one restaurant. I was cold, hungry and lacked the will power to find more potatoes or anything else I could throw on a fire and so I broke down to a civilized meal in Mt Carmel. The plant based Impossible brand has come a long way and chefs are getting very creative with this plant based meet alternative. The Impossible Bolognese was delicious. It was just what the Dr. ordered before hitting my tent for the night. A 3 AM bathroom trip awarded me with a glimpse of the countless stars above.
Need to figure out long exposure for better star pics
The views during the early morning, 3.5 hour 211 mile schlep back to Vegas didn't disappoint.
A few days later I was telling my wife how much I want to go back and summit Angels Landing and how much she would love the sites. Long story short, in a few minutes we are booked for three nights in Moab (Arches National Park), one night in Zion with a night in Vegas on each end with dirt cheap roundtrip flights. SHHwiing!!
Upon arriving in Vegas (again!), it was pool time at the Wynn. It was quite the party scene.
Dinner at Bazaar Meets in the Sahara Hotel (formerly SLS) was as great as always, even though I don't eat red meet any more. Their Gin & Tonic is worth flying cross country for.
Our familiar traveling companion, named jet lag, assisted with the early morning start to a 6 hour 462 mile drive to Moab, Utah. We picked Moab because neither of us have been to Arches National Park and I really wanted to see what all the off-roading fuss in this town was all about. Yep, you guessed it….the views during this ride were stunning.
It was a Toyota Tacoma this time around
The only downside to this trip was a nasty cold front which dropped temps by 40 degrees and brought some snow with it. When life throws you lemons you make a lemon drop martini so we made the best of it. As my better half was in charge of planning, the tent was left at home and replaced by really nice accommodations. First top, Sunflower Inn. A truly special B&B that I would I highly recommend.
Dinner at a place named Desert Bistro was 5 star quality. We were told that folks drive from Salt Lake City for their cuisine and I believe it. Make reservations in advance like my trusty cruise director did.
At the crack of dawn I attempted to get a run in. I learned about a trail on the perimeter of town that would take 1.5 miles to get to. I made it to the trail then had to turn back because my body was not having any of the 8* (with windchill) weather. The training log would have to settle for only 5k for the day. I was frozen to the core and took the first bath in ages to thaw out.
Our plan for the day was to explore the park but we arrived to a closed ranger station. Arches is open 24/7 unless driving condition are unsafe and they definitely were with the frigid temps and ice/snow on the road so tomorrow's off-roading became today's mission.
I'm no off-road pro, in a rental not wishing to pay for damages, and not wanting to hear "STEVEN!!!!!!!" repeatedly from my passenger so I opted for a beginner / intermediate 14 mile trail named Gemini Bridges which began only 9 miles out of town. I was off to a gleeful start of steep switchbacks with killer views and equally killer drop offs. My passenger was not amused and the "STEVEN!!!!"'s I was hoping to avoid came in droves.
After the conclusion of the opening act it was smoother sailing. I gained a good appreciation for my Japanese steed as it handled the undulating terrain very well. There were a few really sketchy spots that these pics barely capture that really gave me a thirst to try the more advanced trails, on a tuck with a lift kit or a dirk bike. Maybe next week 🙂
A short hike at our destination revealed the twin natural bridges that the trail was named for (that I didn't capture too well in the pics below). I wanted to spend more time exploring out there but it was just too cold.
We had dinner plans at the River Grill restaurant located in a resort called Sorrel River Ranch which is 30 minutes out of town. It is best known for its incredible views so we decided that going there during the day so we can actually see them would be a better choice. Boy were we right. First off, the drive out there was simply spectacular. Put Utah 218 West on your bucket list right now.
The ranch lived up to all the hype about the views and the location. Unfortunately it also lived up to the Yelp reviews about their food. Average at best but the surroundings more than made up for it. The martini and beyond burger tasted just fine btw. Just say'n.
After seeing route 218 the day before, noticing running paths on both sides of the Colorado River and the temperature improving by 10* I needed to try a run agin. This time I made it 6.5 miles and enjoyed every minute of it.
The following morning it was off to finally explore Arches National Park. After entering the park the 1st incredible view was of the Rockies.
The park has many trails with varying lengths and degrees of difficulty. Our fist stop was at The Windows.
Next we attempted the trail for Delicate Arch which is ranked moderate and is 3 miles long. We went for about half an hour before it got too technical so we turned back and then opted to hike up to a view point instead.
After some more exploring by driving around we hit the famous Dragon's Garden trail. This is a 7 mile trail where you'll find many natural arches, spires and a large concentration of rock walls called fins. It was really comfortable in the sun but not so much in the shadows of these giant formations. Even though we barely made it one mile before turning around it was really enjoyable.
Never pass up an opportunity to nap under the sun
Moab Utah is an outdoor enthusiasts ultimate playground. It offers 100's of miles of hiking, biking, mounting biking, off-roading of all types, white water and other Colorado river activities and even skydiving for true adrenaline junkies. I can not wait to return to complete the Devil's Garden Trail, mountain bike on the slick rock trails that put Moab on the map, and to do more off-roading on a proper jeep and/or motorcycle.
Next it was off to Zion National Park to address some unfinished business at Angels Landing. You'll find this hard believe but the 5 hour 315 mile drive had some pretty amazing views along it.
We had some time to spare so after driving through the park and experiencing all the grandeur from the East to South entrance we checked in to the Zion National Park Lodge. Then I was off to my 2 PM shuttle while my wife explored the town.
Serious truck envy!  Me next to a giant Ford F350

This is discover.com's post about the trail I was headed for. It's titled "Most dangerous hike in the US":
Angels Landing is one of the world's most renowned hiking destinations — though it's certainly not for the faint of heart. With dizzying heights, and hairpin turns, the thousands of hikers it draws every year might not know exactly what they're getting themselves into.
Zion has plenty of trails, but Angels Landing may be the most breathtaking. Picture this. You begin the hike on the wide and well-maintained West Rim Trail. It follows the river and then crosses the bottom of the canyon, surrounded by 270 million year old layers of rock. Relaxing, right? Just wait for it. The trail then starts to climb via a series of switchbacks leading up the side of the mountain. Then more switchbacks: 21 tighter turns, called "Walter's Wiggles," where elevation levels rapidly increase. Your heartbeat is probably rapidly increasing at this point, too.
On top of Walter's Wiggles, you can stop for a stunning view and a restroom stop while you contemplate the final stretch of the hike. If you're afraid of heights, it's best to turn back now. The last stretch is the real test of bravery.
The last half mile of the hike is what really ranks it as one of the nation's most dangerous. Angels Landing itself is a fin-like formation jutting 1,500 feet out of the canyon, and this is where you make the final 500-foot climb. Guardrails and chains bolted into the cliff help you keep from tumbling over the extremely steep ledge. You're literally living on the edge, and you don't want to trust the "angels" down there to catch you. Once you reach the top, however, it'll all be worth it: 360-degree views of the canyon make a great backdrop for kicking back and having a meal before you come back down the way you came.
Angels Landing might be dangerous, but thankfully, not too many people have had fatal falls. According to the park website, seven people have died in the 100 years the park has existed. Still, this is a very strenuous hike. If you're out of shape, bringing young children along, feel ill or prone to fainting, or are just plain afraid of heights, opt for an easier trail.
Angel's Landing is a great hike for most of the year, besides the cold winter months when the trails could become dangerously slippery. Summer is the most popular time of year — and therefore the most crowded — but it can also get extremely hot, so opt for an early morning hike while the temperatures are still mild.
Sure, it's dangerous, but there's a reason this is one of Zion's most popular hikes. If you're up for the challenge, Angels Landing will definitely deliver rewards.
With 3 days of acclimatization behind me it was much easier to breath this time around. I made it to the same spot as last time in 40 minutes and summited an hour later. I tried to capture the steepness and technical aspects in the pics below but frankly I was too busy being careful and just taking it all in.
When I go to the summit I greatly enjoyed the views from the top and hung out for a bit with my puffy jacket on because body heat was quickly escaping. After having my celebratory cheese and crackers and sharing same with my new friend I started the descent which I must say was just as hard as the ascent.
One life line for ascenders & descenders to share, very steep, very technical, hard to breath, possibility of death….. sounds almost identical to a Mt. Everest Summit without having to fly around the wold and spending 3 months to attempt. Hmmm.
Back at the lodge this comfy Adirondack chair afforded me one final (for now) look at amazing Zion. While at the top of Angels Landing I did notice a peek nearby which was at least 500 feet higher. I later learned that it is called Observation Point. Yep, already on the list for next time.
Dinner that night was at another great steak house called Switchback Grill. This was one of many choices in a town filled with great accommodations, restaurants, bars and campgrounds.
Even the wild life was friendly. This is a pic of a buck that walked right up to my wife and some rams we saw during the drive.
The drive back to Vegas reminded me of all the drives prior and made the final 165 miles 2.5 hours go by super fast.
For our last day we brunched at Mon Ami Gabi in the Paris Hotel and then spent the afternoon at he Cosmopolitan pool, enjoyed a killer view from our room and were reminded of pre-COVID times with a mouth watering dinner and super entertaining burlesque show at the Rose Rabbit Lie restaurant also at the Cosmo.
Icing on the evening cake was a view of the famous Bellagio Fountains in all their glory from our hotel room before calling it a night and heading back east in the morning.
Looking forward to adding Yellowstone and/or Yosemite to the list of parks visited next year.
Thank you for reading. Stay safe!