Helicopter Skiing in British Columbia
After 6 years of coming here it is about time I share what my now annual heli skiing adventure in British Columbia is like. The place I've been going to every first week of December is called Mike Wiegele Heli Skiing. It is a combination of the most picturesque and breathtaking mountains in the world combined with a 5 star resort. With over 1 million acres of powder filled terrain that includes 1,000+ peaks spanning the Carribou and Monashe mountain ranges in the Canadian Rockies, it is a skiing destination second to none.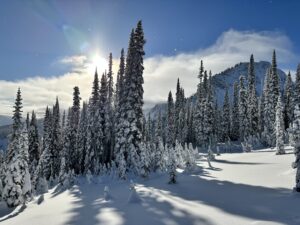 After each incredible day of skiing, winding down in the luxurious accommodations in one of the 4 properties here is just what the doctor ordered. More on that later since it's really secondary to the skiing experience but equally excellent and unique.
Before takeoff on day one we go through a detailed safety briefing on how to exit the bird in case of a crash landing or emergency. We learn how to climb out if it's on its side, where the fire extinguishers are and where the 15 day emergency food supply is stored. Again, we've never had to use this knowledge in the 6 years I've been skiing here.
While we climb in, figure out how to intertwine 18 knees with bulky ski boots on and buckle in, the guides are loading up our skis into the ski bucket that is attached to the right side of the chopper. Maybe it's different with a group of 30 year old svelte folks, but this arrangement makes for a very tight fit for this crew. Forgot to mention that we get weighed at check in for proper weight distribution. Safety first!