Ironman Arizona Race Report & Gourmet chicken broth discovery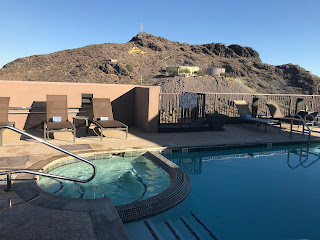 I've never been happier to end a race. My body is trashed from the insane load I've but on it this year and Sunday's finish line was truly a symbolic finish for all my 2017 events.
Ironman Arizona is held in Tempe,
an awesome college town (Arizona State University) right outside Phoenix and very close to the airport. It's filled with bars, restaurants, unique shops and a very young and hip vibe. Joining me on this trip was my all in one friend, tri guru/advisor and nutritionist Igor.
Thank you again for another awesome experience.
Since we had such great luck with an AirBnB right outside Ironman Village in Whistler BC earlier this year we reserved a condo less than a mile from the race venue again. Even though it was fully paid for, the host was completely unresponsive when we tried to get check-in information.
AirBnB customer service was super professional and issued an immediate refund but we were still stuck without a room in a pretty sold out town. Fortunately a Marriott right downtown had a cancellation, so after a couple of hours of drama we were set. The rooftop fire-pit, jacuzzi and pool were a nice consolation.
Three great restaurants I would highly recommend are Postino Wine Cafe, killer bruschetta selections, LaBocca, great Italian, and NCorner for breakfast, brunch or lunch. I ordered the ManCakes as part of Saturday's carbing program.
Arizona doesn't follow daylight savings time so sunrise is late and sunset is early(ish). The race started in the twilight at 6:50 AM.
The self seeded swim start had me in the water shortly after 7. The sun rose directly ahead at around 7:10. It was beautiful but made it really hard to see until the turn around. It was a single loop swim course and highly congested in the pretty nasty water of the Salt River. Zero visibility with a slow current which helped going out but made the return portion seam to take forever swimming against it. I forget the exact water temp but all but 1 brave man were in wetsuits.
We got lucky and happened upon Any Potts giving an Ironman VIP swim clinic when we went to ASU for a practice swim on Friday. He was super nice and invited us to join the clinic. It was wild doing a lap and coming up on an Ironman Champ kneeling down and giving me feedback. I tried what I learned from him but still had a slow 1:36 swim split. I know I can take 10 to 15 minutes off that time if I train right. I think I PR'ed T1, lol, and got on the bike after only 6 and a half minutes.
My only goal for the race, other than just finishing, was to PR the bike split because of my sleek new ride. After some research I was planning on buying the Trek 9.9 Speed Concept with Di2 next year. When I saw the head of my tri team post his barely used one for a steal I couldn't resist. It was meant to be, but the PR wasn't. The insane head winds hurt everyone's bike split. No really, they did.
Tight quarters. My new Trek on the floor, Igor's QR on the couch.
The course is a 33 mile out and back done 3 times. Really nice dessert views and a slight but gradually building uphill going out and mostly downhill coming back. Only 2.5k feet of elevation gain over 112 miles but far from flat as many would describe it. Coming back downhill on the first loop was when I got to truly appreciate this bike. How it feels at 30 MPH is exceptional. Totally stable. Di2 shifting…. no words. Not even this machine could make up for the fried legs of riding from Washing DC to Brooklyn (270 miles) and the running the NYC marathon within the last 4 weeks. Bike split ended up being 7:33:34.
Shooting for a sub 6 bike split next year. Even if its 5:59:59.
The sun was out in full force with temps in the low 80's with zero clouds in the sky. The constant strong wind make it feel cooler than it
actually
 was. I did a really good job keeping to my nutrition plan but over did it on hydration. 
I thought I should be drinking more than usual because of exertion in desert conditions.
After a 5:54 T2 I was off to the marathon and immediately felt the effects of over hydrating. After coming out of the biking aero position and standing upright I felt super bloated. So much so that it was harder than usual to breath. I couldn't drink or eat anything for the first 6 miles of the run but it finally subsided. A slow jog was the most I could muster but at least it was forward progress.
Sunset over the Salt River was really pretty and then it was lights out by 6 PM. This course is very poorly lit and actually un-lit in many areas. If you think you'll be running past 6 bring a head lamp. I kept finding folks with one and ran behind them. The course is a funky 13 mile loop done twice. The crowd support was fantastic. There were so many ASU spots with college kids doing what college kids do and lifting the spirits of everyone running by. It was like a 2 second run through a frat house party at multiple spots.
By 8 PM, with the sun gone it was getting quite chilly. Most IM races where temps drop have warm chicken broth at the run aid stations. I've never tried it. I'm a nice Jewish boy and need all the accouterments that come with chicken soup. Drinking it out of a cup??!? ewww. The fact that I would try anything to get a second wind describes my state of mind at this point. At the next aid station I got a cup of it, along with some pretzels and some grapes. This was the most gourmet dining experience of the year!! I had a cup at every aid station I stopped at from this point forward. Delicious.
Many lit up bridges make for a great view at night.
On the second loop I kept finding someone that was running faster then I was and just tried to keep up with them. Amazing how much easier it is to follow a pace than keep it on your own. Especially in this stage of the race. Thank you Amelia for pulling me through the last 5 miles and helping me break 15 hours by 14 seconds. Run split, or actually my jog split, was a supper slow 5:36:41. Oh yeah, Mike Reilly was calling the race at the finish. Nothing beats hearing "Steven, you are an Ironman" from this legend.
My buddy Igor had a killer 10:48 race, got his bike to TBT, went to the hotel, showered, changed, chilled and came back to collect me at the finish. Thank you again for the support dude! And congrats on your 21'st Ironman. Hard to believe we did our first one together in Lake Placid in 2011. I'm proud of 9, but 21 (including Kona), incredible! We hobbled to the only place we found open that late on a Sunday night and celebrated with some beer and burritos before hobbling back to the hotel and collapsing. I could not ask my legs for the support needed for a shower. I know, TMI, just sharing the toll this took.
I don't have much to add about race logistics and venue. All get a huge thumbs up from me. Would definitely race here again and spend more time in Arizona post race. Perfect weather this time of year.
This concludes the race reports for a year that I will look back at fondly. It started with the Monument Valley Ultra Marathon, Rutgers Half Marathon and Jersey Man Triathlon. Then it was onto Ironman Frankfurt Germany, Ironman Whistler Canada and 
Ironman Vichy France
 in a 7 week stretch over the summer and concluded with The Ride To Brooklyn, New York City Marathon and Ironman Arizona over the last 4 weeks.
According to my Garmin this year's totals are 1,775 miles of biking, 825 miles of running and 44 miles of swimming. I know my friends are asking why the gallons of liquor we consumed are not listed. Sorry, Garmin doesn't track that (yet).
I hope this post encourages at least one person to get off the couch and make some sort of exercise part of their daily routine. Worst thing that could happen is you'll live a longer healthier life.
Happy to get anyone started.
Looking forward to less quantity and better quality race results next year. Happy holidays!
-Steven