6 Incredible days in Cambodia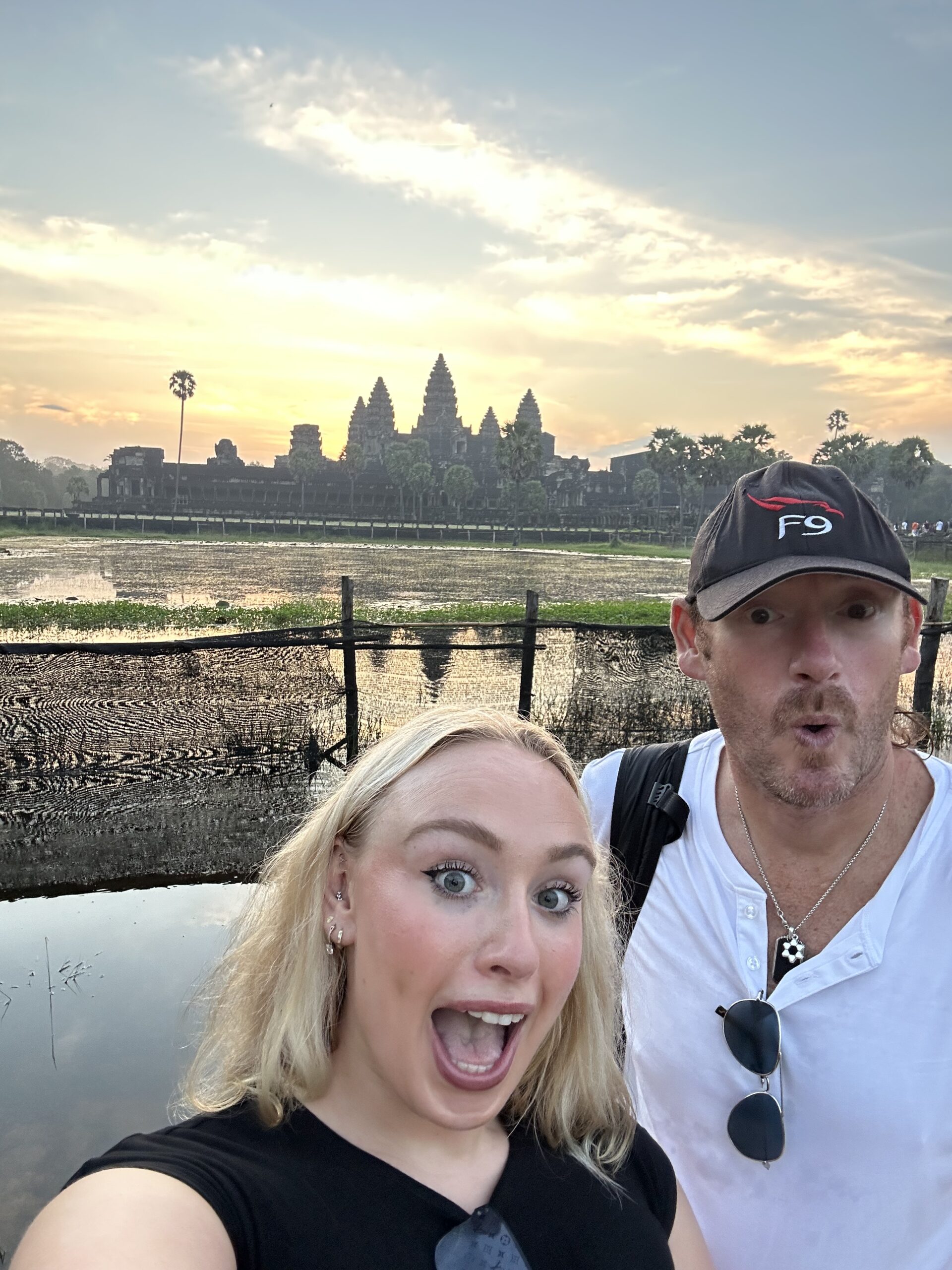 It all started with my younger daughter letting us know she wanted to go on a South East Asia trip in the fall.  My knee jerk reaction was "There is no way you're going alone……I'm going with you!".
A few days later it was time to spin the wheel and decide on our destination. No joke. We put in Taiwan, Laos, Philippines and several other destinations. The wheel landed on Cambodia.
Cambodia ?!?!  Who goes to Cambodia? That was mystery enough for the detailed planning to begin.  My daughter and I divided this up in two simple categories.  I get us flights to and from and she plans everything in between.  Fair , right ? I thought so too.
Her TikTok summaries it well: https://www.tiktok.com/t/ZT8k6RC13/
I literally learned about our daily itinerary a few days prior to boarding a 1:30 AM flight on Thursday Night/Friday Morning to Manila in the Philippines where we would have a day long layer over before getting to our first destination of Phnom Penh, Cambodia's capital.
The trip started off relatively on time but as we were taxiing to the runway the plane had to turn back due to computer issues.  My daughter fell asleep as I watched Top Gun (the original) for the 87th time while looking for alternative flights in case the problem couldn't be fixed. A few system reboots, Gooses death, Maverick saving the day and 3 hours later, the 17 hour flight commenced.  Sleep, eat, movie, bathroom, sleep, eat, read, movie, snack, read, sleep, bathroom, movie, eat, sleep, read and boom we landed in Manila at 10 AM local time.
There is a luggage storage facility in Ninoy Aquino International Airport in Terminal 1 where we left our 2 carry-ons and proceeded to meet a prearranged tour guide and private driver that was waiting for us. A tour of Manila was first on the agenda until our 10 PM flight to Cambodia. This was the first of many details my daughter saw too.  Sooo grateful and proud!
Besides the heat and humidity, the road congestion was most striking when we left the airport.  After driving around for a bit we visited the World War II Manila American Cemetery and Memorial.  At over 16,000 graves, it contains the largest number of military dead that gave their lives for our incredible country. Thank you for your service!  It has a striking resemblance to Arlington National Cemetery in DC with tomb stones meticulously arranged in perfect alignment.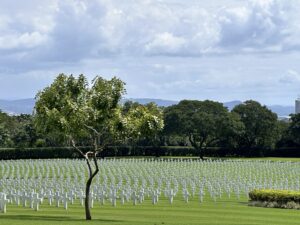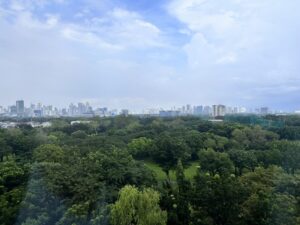 My daughter starting feeling nauseas so we stopped at a café in the Mall of Asia. 1 coffee, 1 latte and 1 tee that normally would cost over $20 in Starbucks was $6.  This was the 1st sign of how little we would be spending on things going forward.  The remainder of the tour was cut short because my daughter wasn't feeling any better and we both needed some rest before the next redeye flight. We ended up getting a room at a 5 Star airport Marriott for only $90 to get some sleep.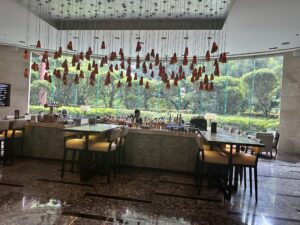 A 1.5 mile taxi from the hotel to the airport took almost 30 minutes. The traffic in Manila is just insane. We retrieved our bags, paid the $8 storage fee and were bounced around from lounge to lounge until we found the one that was servicing our flight.  The 2.5  hour flight to our primary destination was uneventful and we finally landed in Phnom Penh International Airport at midnight local time.  This is where we took our first of many Tuk Tuk's to our first hotel called Pavilion, and conked out. That ride was $9 and the hotel cost $75 per night which included breakfast.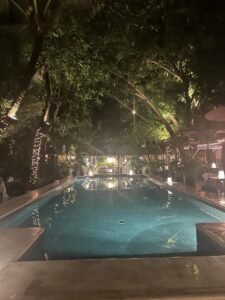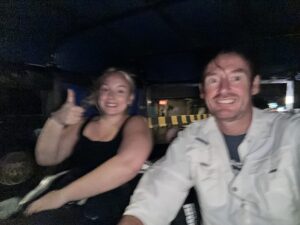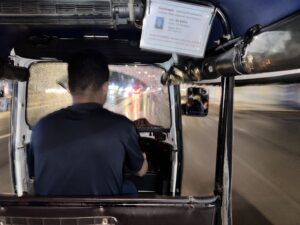 At our 7 AM breakfast I had to start trying the local fair and ordered the Bai Cha Bunlae while my daughter opted for the more western side of the menu.  After we had our fill it was time to start playing tourist and explore this vast city of many districts and a population of 2.2 million.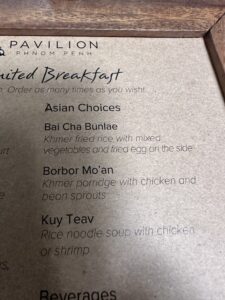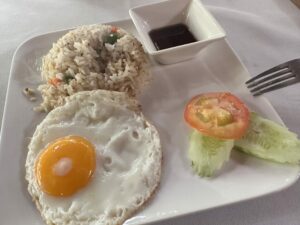 The only hiccup in planning was not knowing that today was a national holiday commemorating the King's father. Due to it, the National Palace and some other interesting places would be closed.  We still made the best of it and started with the National Museum. While we didn't have a guide today we still got a great flavor for the rich history of this country. Museum entrance fee $5 per person.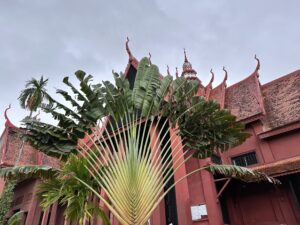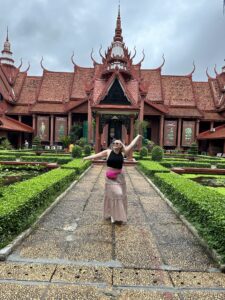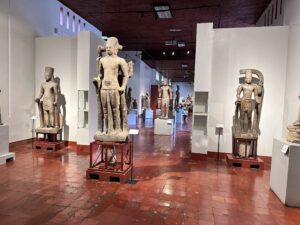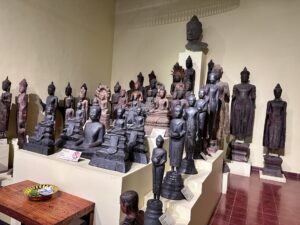 We then walked to several markets within the city. This was definitely a sight for all senses. We saw frogs, cow kidneys, crabs, fake watches and everything in between for sales by the locals. It was a bit surreal but like a train wreck you just can't take your eyes off of it and you keep going and seeing more.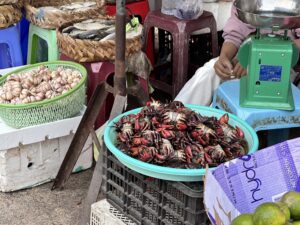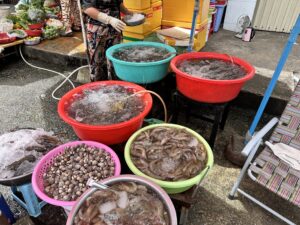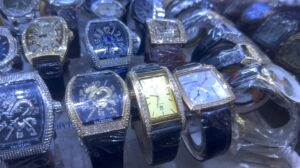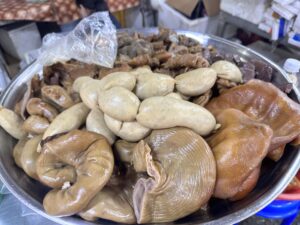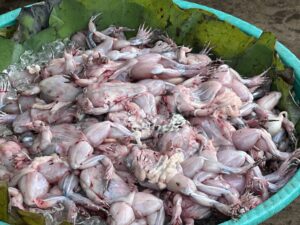 With jet lag kicking in, we needed a second wind and stopped by a pretty touristy restaurant for some refreshments. Two espresso martini's and a beer hit the spot for $16.  We passed on the antique furniture they were selling in the same place and continued to see the highest temple in the city called Phnom Wat. That is when we got stuck in what would be the 1st of many torrential downpours. We knew October was still part of their rainy season, though the tail end of it. It was a calculated risk which paid off greatly resulting in almost no crowds nor lines everywhere we went during the week.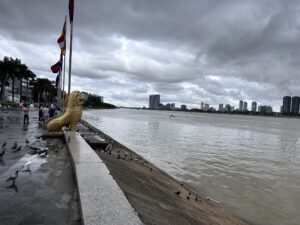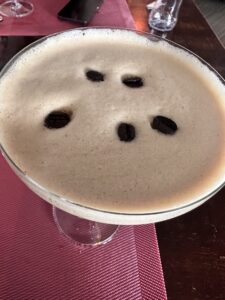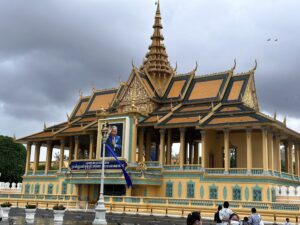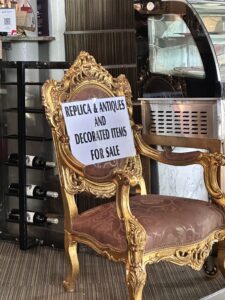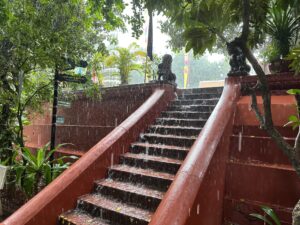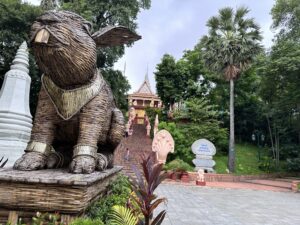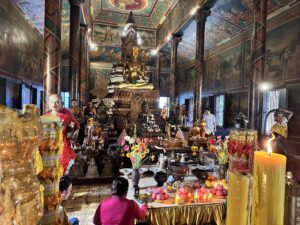 We took another Tuk Tuk, $3, to a place called the Russian Market.  Based on the limited information we received, this has no relation to Russia other than the vast amounts of Russian tourist that frequent it due to the huge variety of goods sold here.  Unfortunately it was only partially opened due to the holiday. I actually expected Russian food.  Stupid tourist. We didn't see any and decided from the huge selection of local street food instead.  This chicken in egg batter dish with a spring roll was really good for $2.25.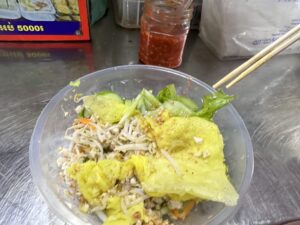 We then took a Tuk Tuk back to our hotel to get off our feet for a bit. $3 seamed to be the going rate for intra district rides.
At 3 PM that day we had a local cooking class booked. It was only a 10 minute walk from our hotel. The experience started with one of the chef's taking us via Tuk Tuk to yet another market to buy the ingredients for the meal we were going to prepare.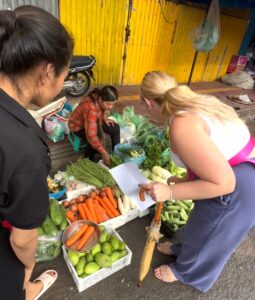 About 45 minutes later, with newly acquired bean sprouts, carrots, cucumbers, onions, eggplant, sweet potatoes, lettuce, basil, long beans, lemongrass, turmeric, galangal, kaffir lime leaf, shallots, garlic, dried chili, palm sugar, coconut milk, eggs, chicken breast, rice noodles, spring roll skin and finger bananas we were back and ready to done our chef aprons and hats to start preparing our fresh creation. It really was a lot of fun.  We received and followed detailed instructions.  And voila, 1 hour later, a traditional 3 course Asian gourmet feast of vegetable spring rolls, chicken curry and caramelized banana materialized in front of our eyes.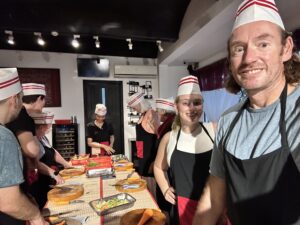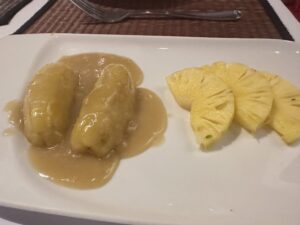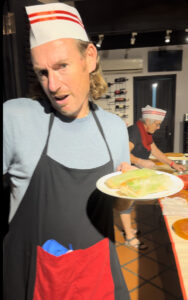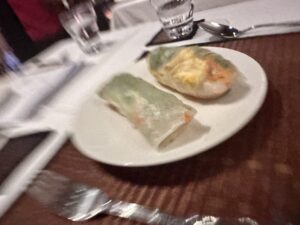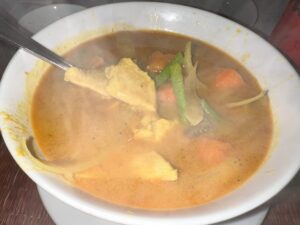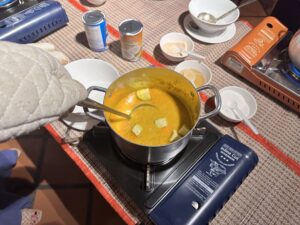 Meeting some really nice UK and Australian fellow gastronomes added to the experience. They would be the first of many to criticize us Americans for our short jaunts abroad compared to the 3 to 6 week leisurely trips they take.  Yes, I'm jealous.
Cooking class was $35 a person for a 4 hour delightful and delicious experience with wine adding another $17 to the bill.
At 8 PM, we passed on the ever present Tuk Tuk's and walked back to the hotel to complete our 15,000 step day.  The $8 Tuk Tuk to the airport on Monday morning during rush hour exposed the insane congestion in this city as well. It was really interesting to see serval high end car dealerships. It was not expected after seeing nothing but a sea of scooters, Tuk Tuk's and small amount of mainly Japanese cars flooding the roads.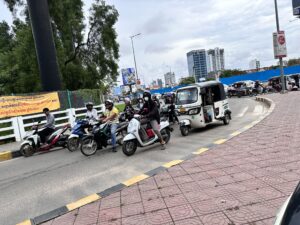 This just led to the assumption of a huge class disparity between the have and have nots. Having said this, we did not witness any poverty nor homelessness, nor begging (like I see in Manhattan daily). We did not feel unsafe for even a second in this country. We did see only a few Range Rovers and G-Wagons compared to thousands of scooters and small cars.
Next up on our itinerary were the temples in and around the city of Siem Reap.  We got there via a regional flight on Cambodia Air. Only 45 minutes and $109 per person.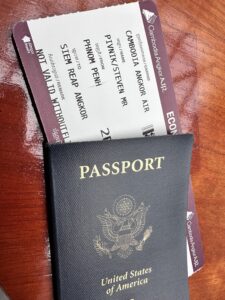 To our surprise we landed in a brand new airport called Siem Reap-Angkor International Airport during its 1st day of operations. There is a lot of publicly about this new airport that you can Google. Unfortunately, it was further away from the city than the original one resulting in a $35 1-hour taxi to get us to our next hotel called Angkor Tempora Boutique which would run us $33 a night.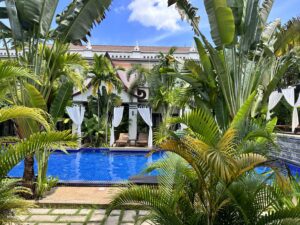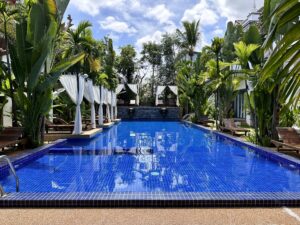 That afternoon we had a tour booked to see the floating village of Kampong Phluk. We were meant to be picked up at 3 PM but instead of a tour van, a Tuk Tuk driver showed up and tried to explain that he would be shuttling us to the waiting van closer to the town center.  We looked at each other, shrugged our shoulders, and went along. After some logistical challenges of attempting to pick up one other tourist we eventually met our tour group. The driver got a tongue lashing from the guide and then we started the 45 minute half real road half dirt road ride to the boat we were to board for the tour to begin in earnest.
What we saw was a bit surreal.  A complete village of houses built on stilts on the Tara River flowing into one of Asia's largest lakes, Tonle Sap. This village housed fisherman families during the rainy season. During dry season the waters reseed and boat are replaced with Tuk Tuk's for tourism while many families find work elsewhere waiting for the rains to begin again so that they can return.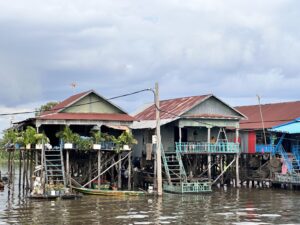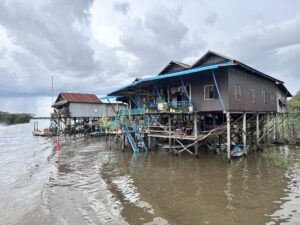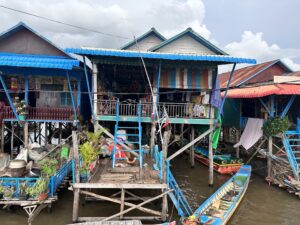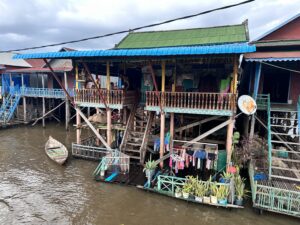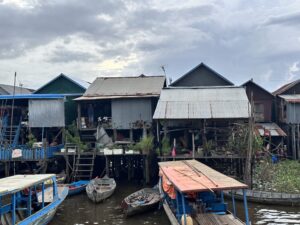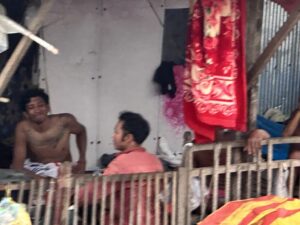 With very few nearby stores on dry land and them being hard to get to, groceries are actually available by a floating supply boat that does house calls.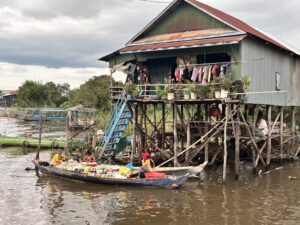 At the end of the river before the giant lake began, we got to our destination where we were greeted by anxious local canoe captains eager to take us on a mangrove tour 2 at a time for $5 a person.  A mangrove is a shrub or tree that grows mainly in coastal saline or brackish waters. Yeah, I didn't know either. Of course we obliged. Shortly after we departed it started to rain.  Fortunately very lightly, but there were umbrellas on board just in case.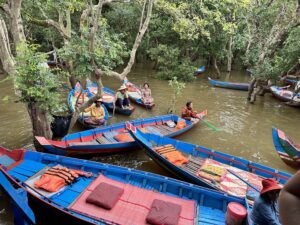 Balance was a huge requirement as any movement would really rock this primitive craft.  It was quite enjoyable to be in this natural habitat until our captain stopped at the tourist trap pit stop of women with toddlers on goody canoes peddling snacks and drinks.  After purchasing a $2 beer we were guilted into buying the captain a $5 bag of rice cakes as a tip. Good for them I thought. Have us pay something petty that is meaningful to them. We were having a great time.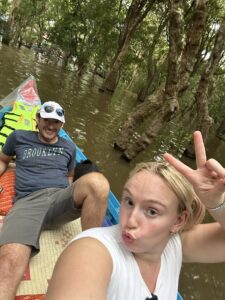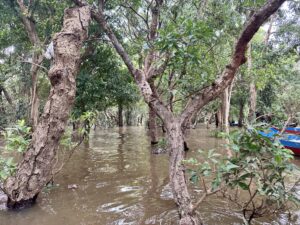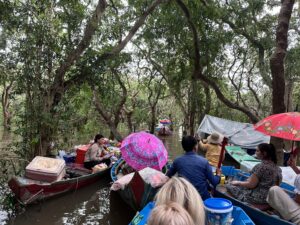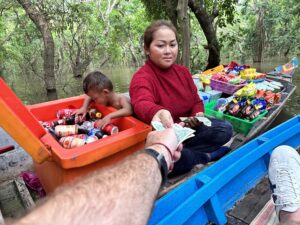 When we got back, we saw a few gators in cages which made us feel like we just got away unscathed. Then the sky opened up to yet another intense thunderstorm which lasted for about 15 minutes. It doesn't JUST rain in Cambodia. It's intense!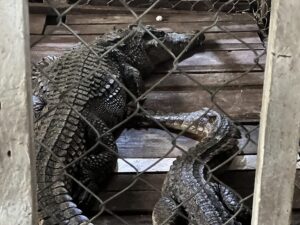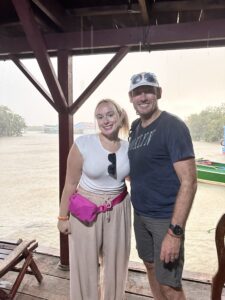 After it passed we re-boarded our boat to get to see the Tonle Sap Lake with the plan of experiencing a sunset on the water.  The weather didn't allow for it so it was back the way we came, through the floating village and back to where we started. We re-boarded our van back to Siem Reap and asked to be dropped off by the street food vendors for dinner.  Check out the food selection and prices below. It was great to see new roads and lighting that were constructed during the pandemic. The government made a great decision to put folks to work in construction when tourism was closed. Smart investment into the town's future.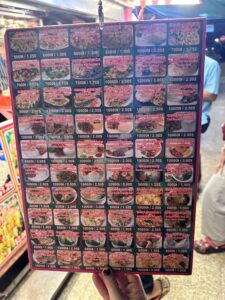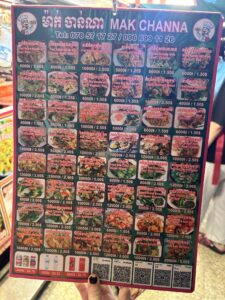 For dinner, our first choice of what we thought was chicken meat was a bit too chewy, $4. We didn't swallow and tossed that and went for something a bit safer, Pad Thai and a chicken curry which was really good for an additional $6 towards our evening meal.  The seating was really interesting. Either it accommodates a physically shorter population or it's meant for tourists not to linger so the owners can turn tables quickly. Or both. Dessert was rolled ice cream for $12 … pricey! We then found a Tuk Tuk to take us back to the hotel. Yep, another $3.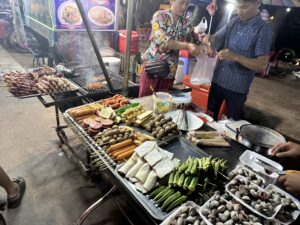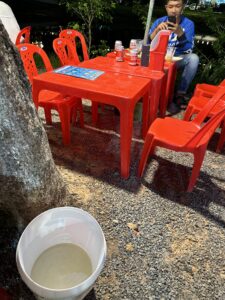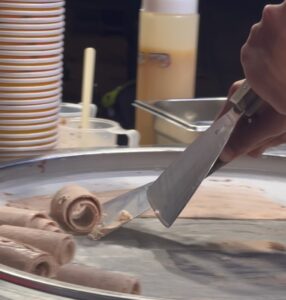 Jet lag worked in our favor as pickup for the next morning's sunrise tour of Angkor Wat, Cambodia's most famous temple and tourist attraction was scheduled for 4:45 AM.  I'll let the pics below of this ancient creation do the speaking. It was pretty mystical.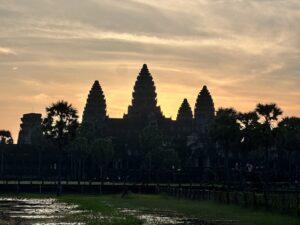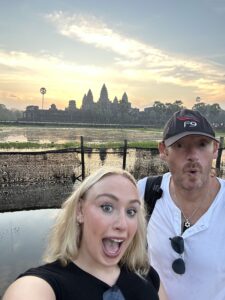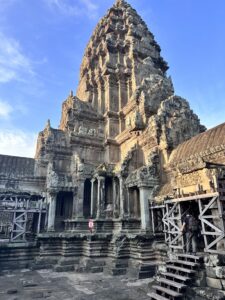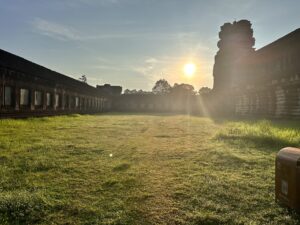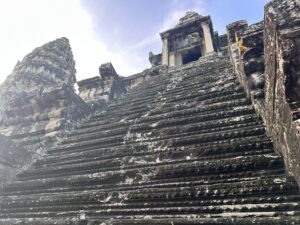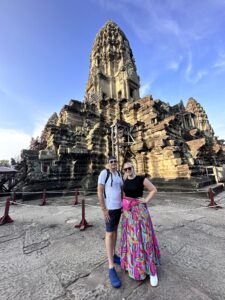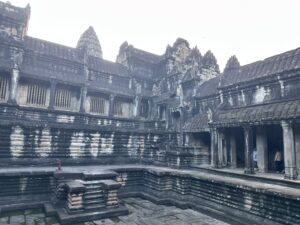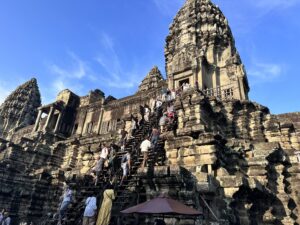 After Angkor Wat we were taken to a market in the temple district for breakfast at around 9 AM which really hit the spot. $11.  This was followed by visiting the Banyan Temple before we hit my favorite of the day:  Ta Prohm, which is where Tomb Raider was filmed.  This is also know as the Jungle Temple or the Angelina Jolie Temple. Same as above… check out the pics below. We loved this stop.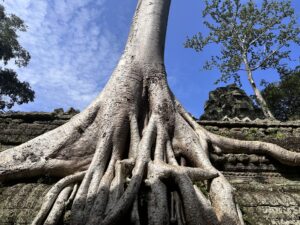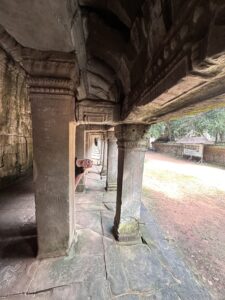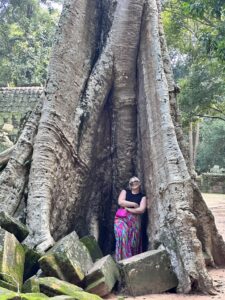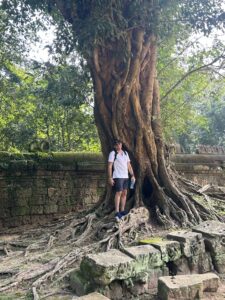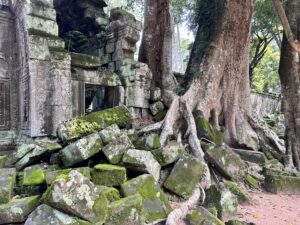 The ongoing collapse of portions of this temple is due to the lack of mortar used in its construction and the giant 700 year old Banyan Tree roots having their way. Nature always wins.
Todays tour cost $60 which included the guide and a private chauffeur. Here is information for contacting them:  Tour Guide, Mr. Chut.  +855 77 920 729.  Tuk Tuk Driver, Mr. Sky +855 99 712 774
There was more to see if we wanted to, but by 17,000 steps in the scorching heat and humidity we were done. We were dropped off at our hotel by noon and spent the afternoon relaxing by the pool.  Oh, lunch and drinks at the hotel ran us $21.  Beef Lok Lak was my favorite dish of the week.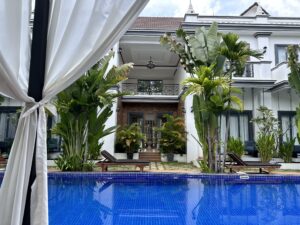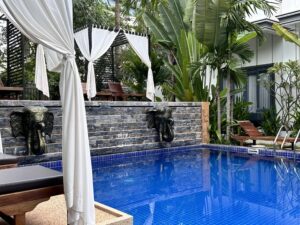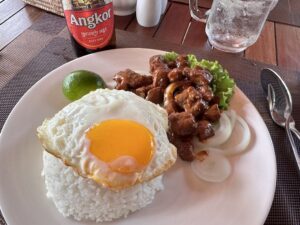 That evening we walked about 1 mile into town to check out Pub Street, AKA the tourist section. It was, like, um, ya know, touristy.  We've heard about a foot-skin-eating fish treatment so as soon as we saw huge aquariums with seating by them we knew exactly what we needed to do.  Yes, this is VERY ticklish! $1 for 15 minutes. Priceless.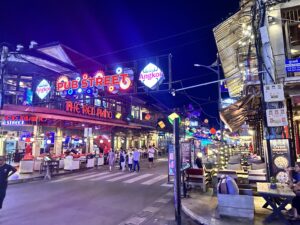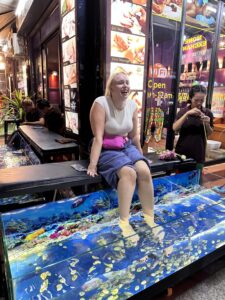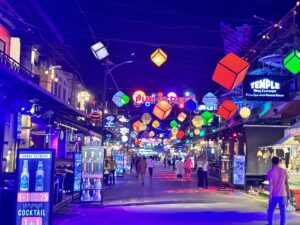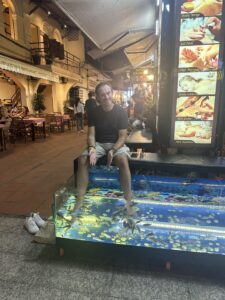 The driver from the previous day picked us up at 8 AM to take us back to the new airport for our next flight. His English was near perfect and he's available for tours as well. Ros Bora on +855 77 79 46 28 on WhatsApp. Coming into a brand new airport with brand new staff was amusing. Imagine getting to an airport and EVERY single person from curbside security to counter check-in staff, to TSA, to gate agents, to ground crew, etc…were on the job for only 2 days.  Fortunately not the pilots, but who knew. No issues at all but lets just say everything was s.l.o.w.e.r. than normal and this New Yorker has very little patients LOL.  But seriously, it was great to see this massive $1 Billion investment being made into an airport and new roads that can now accommodate long haul international flights. Tourism's should soon get back to and exceed pre-pandemic levels.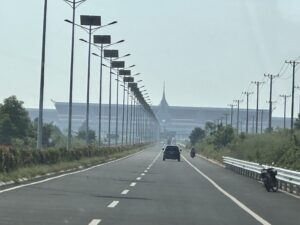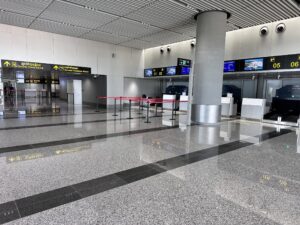 Next stop was the port town of Sihanoukville.  Another short flight which ran us $131 per person. This was the most commercial town yet. No surprise because well, it's a port town. Still a ton of Tuk Tuk's and scooters but this time scattered in between heavy equipment, tractor trailers and other large trucks with many high rise buildings affording beautiful views of the Bay of Thailand.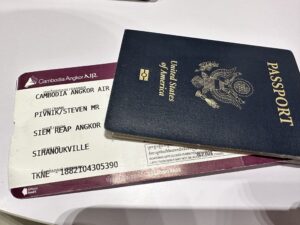 The 45 minute $25 taxi ride dropped us off by a high speed ferry that was going to take us to the island of Koh Rong. While waiting for the boat we enjoyed some fried chicken and the best mango smoothies yet for about $10. The heat was intense until we got to enjoy the awesome cool breeze on the high speed ferry.  $25 per person, round trip.  The boat ride took about 90 minutes because we were the last of multiple stops that it made.  That was more than enough time for me to realize that I forget my phone in the taxi. Oops. My daughter called it several times but no one answered.
I told the captain who spoke really good English and he said that he recognized the taxi driver that dropped us off and would try to get it back.  He took down my daughters WhatsApp number and said he would be in touch before our return in a couple of days.  I didn't have high hopes for this.  Thank goodness for iCloud backups :-).  Also, I never used this feature before but with the FindMy app you can put your phone in Lost mode. I did this by connecting my iPad through my daughter's hotspot.  When you do this, you specify a phone number and if someone tries to use the phone all they see is "LOST MODE" and have an option to call the number you specified. Pretty cool but no one called.
My daughter takes great pics and I still had my iPad so I was totally unfazed and was set on enjoying some downtime on the Island. It was everything we had envisioned and the website pics were very accurate. Our $225 a night room allowed us to step right onto the beach from our hotel room door and there was also a nice pool on the resort.  We were in the clear blue refreshing water within 15 minutes of checking in.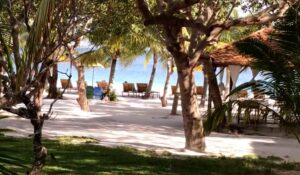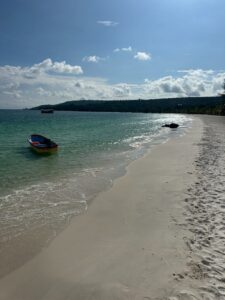 After a few hours of beach chilling we went into town to explore dinner options. Actually, "town" is a huge exaggeration. There is a short strip containing a small amount of restaurants, a convenience store and a bar that service the 3 or 4 resorts that are next door to each other.  Each resort has a restaurant and bar as well.
We chose Thai food and really went to town ordering Tom Yum soup, Thai Tom Yum  soup, chicken pad thai, and spring rolls and two drinks.  The food bill was our largest yet coming in at $31. Oh, European designer clothing was everywhere.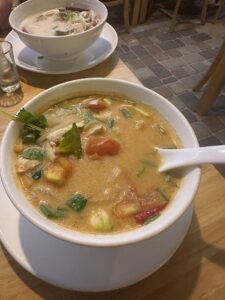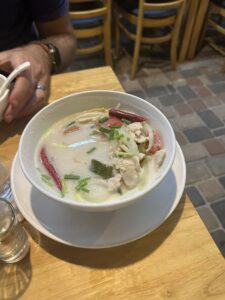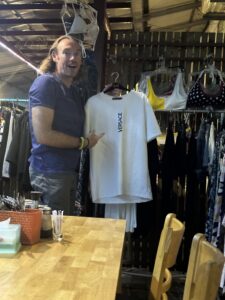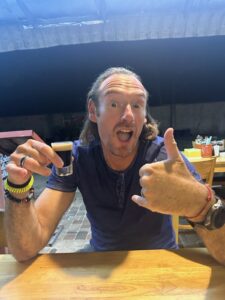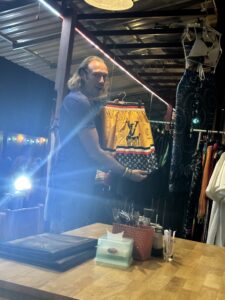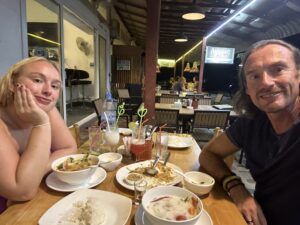 I woke up around 4 AM each of the next two mornings and got to enjoy the sunrise over the mountain and water before going for a long swim. Need to keep up with the IM training! The beach was an incredible location to meditate. Pure bliss.  As mentioned, this was still technically rainy season and before their main tourist season so besides a few other guests we pretty much had the run of the resort to ourselves. It was uber quiet and peaceful.  Especially at 6 AM.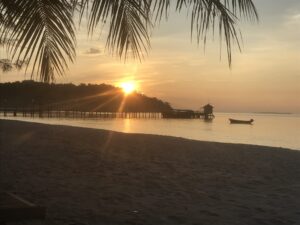 After enjoying the included breakfast buffet it was back for more beach relaxation for a few hours.  At noon we decided to rent a scooter for $10 and explore the rest of the island. I was pleasantly surprised that there was a brand new two lane road that covered most of the island. Further proof of investment towards anticipated increased tourism.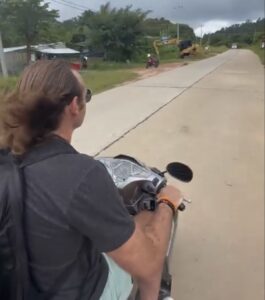 As soon as we got on the main road after a sketchy stretch from the beach it started to rain. Fortunately it was really minor and only lasted about 10 minutes. This was not the mother of all storms that would strike over dinner later that evening. We really enjoyed exploring several different areas and seeing more white sand clear water beaches, another floating village, and a very cool bungalow resort that included its own small private island.  An island off an island, now that's private!
This island has many magical destinations and resorts including ones on Long Beach, Golden Beach, Lonely Beach, Pagoda Beach and others. Let Google show you the specifics of each. We had a pier lunch on Golden Beach ( I think ) which was really good for $23.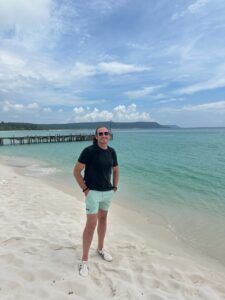 After some sunburn and windburn from scooting around for 3 hours it was back to Long Set Beach for one final sunset. As we were getting ready to head out and walk to find dinner again, my daughter's WhatsApp went off with good news.  The ferry captain let her know that the taxi driver would be waiting at the dock with my phone. Yay.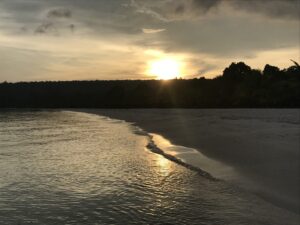 Back in "town" later that evening we took a break from local faire and decided to try the Turkish Restaurant.  The food was really good and didn't cost much more than usual.  $28. During dinner is when we experienced the worse storm of the week.  The thunder was louder than any I ever remember hearing. I guess it was pretty powerful too since the power was knocked out.  Enjoying the torrential downpour in darkness was very cool.  The outage didn't last long, but the hotel didn't get Wi-Fi back until the following afternoon. No biggie.
On our last day on the island and in Cambodia we enjoyed another sunrise, buffet breakfast and time on the beach until our 3 PM ferry ride back to mainland.  The ride back to the port in Sihonoukville was a quick 45 minute and I was reunited with my phone.  I think the taxi driver was happier to see me then me him.  He asked another driver to take a picture of him giving me back the phone. He actually took two pics. One with his taxi shirt on and one with his port shirt on.  Maybe they have some sort of law about returning tourist property?  He appreciated the large tip I gave him.
Next up was our long taxi ride, $80, back to Phnom Penh where we were going to start our return trek through Manila at midnight.  But first we had some more clumsiness business to attend to. We both accidentally left some clothes at the first hotel we stayed at. Since we had a ton of time to kill it was back there to pick them up. It took a quick 2 hours on the highway which looked like any interstate I've ever been on to get to the city.  Then, the final 8 miles took another full hour due to the insane congestion, flooding and traffic.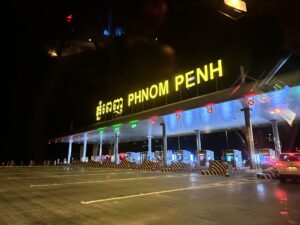 We had originally planned on leaving our bags at the hotel and looking around some more but the skies opened up yet again. It was really something fierce so we stayed in the hotel for dinner to wait it out before heading to the airport.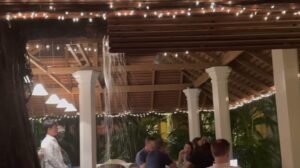 With the 1 hour time zone change and slight delay we landed back in Manila at 4:30 AM and headed straight back to the Marriott to get some rest. This is the only time we where ripped off by a taxi driver.  He charged us $35 for a less than 2 mile ride.  I was exhausted and not in the mood to argue.  Unfortunately, taxi driver's ripping off tourists is a global thing. Been there done that too many times to remember. If this was the worst of it after over a dozen rides during the week then we were still ahead of the game.
After getting a few hours of sleep we visited Intramuros, the walled city of Manila and went into Fort Santiago. The fort is one of the most important historical sites in Manila. We enjoyed walking around there and snacking on more street food in town.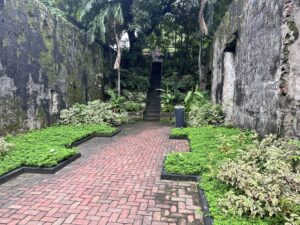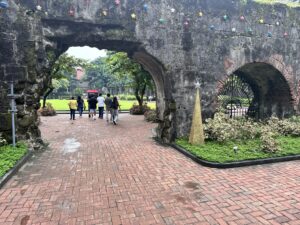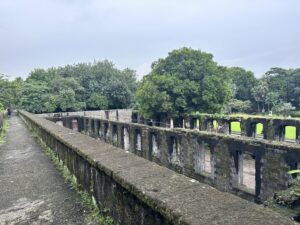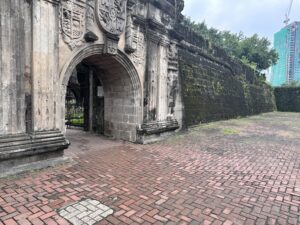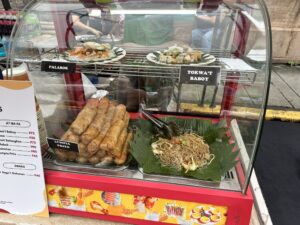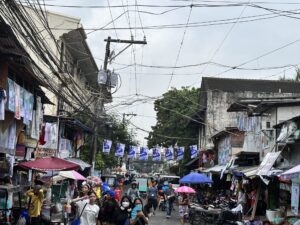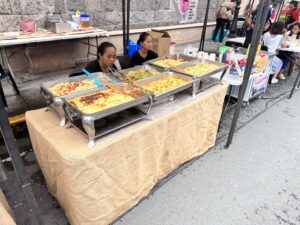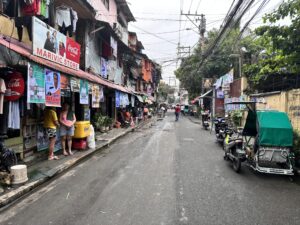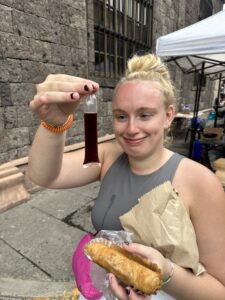 Before heading back to the hotel we needed to stop by the world famous dim sum placed called Xiao Long Bao. They have locations in London, Vegas and New York as well. The food there was incredible and lunch only cost $14. I can see why they're world famous. Delicious!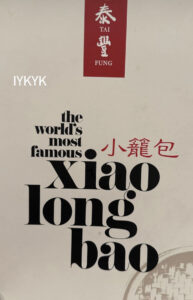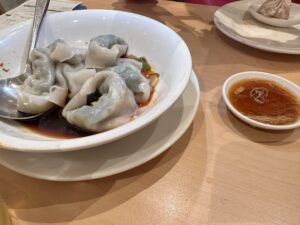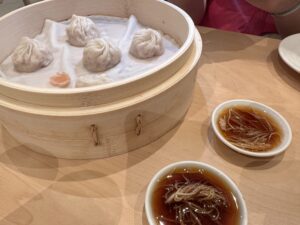 Our final adventure was during the Tuk Tuk ride back to the hotel.  Traffic was insane as usual and our driver decided to take short cuts through very busy markets. There was barely enough room to walk but somehow there was harrowing two way scooter and Tuk Tuk traffic. It took a while but we made it back to hotel by 3:30 PM and had enough time to shower and change and head to the airpot for the last leg of our 15 hour journey back to New York.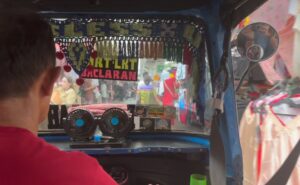 There is so much more to see so we would definitely return and I would highly recommend a trip there. A trip for under $1,000 per person which included 6 nights in really nice hotels, 2 intra-country flights and great food and tours can't be passed up! That doesn't include the price of getting there and back as there are many options.  It's an adventure we won't soon forget. If you've ever been I would love to hear your thoughts!