It's been a few months since my last post and/or book update.  Good news on both fronts. Had a crazy race adventure worth writing up so here goes. Oh, the book is finally here, well kind of. Info at the end of this post.
Not sure why I don't blog more about IRONMAN 70.3 races. Half the distance of a full one is also exciting and challenging. Throw in Mother Nature's shenanigans and it becomes a great adventure.
When IRONMAN announced its inaugural Jones Beach 70.3 on Long Island I had to immediately sign up for this race that would be so close to home.  They quickly sold out 3,800 spots. This was going to be big.
I had high hopes for PR'ing because the bike and run course were going to be almost totally flat and I would have my new steed by then. If the wind stayed away it was going to be great race.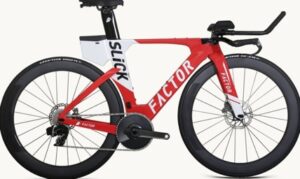 Well,  Tropical  Depression Ophelia had other plans and there was plenty of on-line chatter about the race potentially being canceled due to unsafe conditions.  In the days leading up to the race I started having second thoughts. It would be super cool to race on Jones Beach but I'm not getting any younger…  do I really need to be cold and wet most of the day and risk getting hurt on the bike with my main event coming up in Cozumel later this year?
In my mind I dropped out and re-entered half a dozen times between Wednesday evening and Friday afternoon. My official drop out came at around 11 AM on Friday when I cancelled my HERTZ reservation. Then I get a text from one of my racing buddies confirming our meeting each other at race registration in a few hours.
I said I was looking forward to our planned dinner, was going to take the train out there, but I wouldn't be racing. Then this short exchange occurred….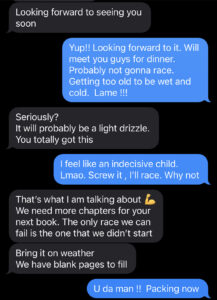 …and as quickly as that I was mentally re-checked in again. I re-reserved a rental car and quickly packed a race bag.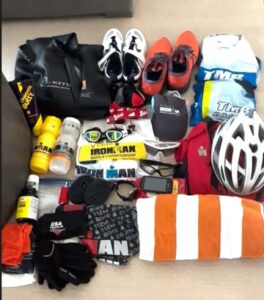 At check-in we got a glimpse of what the swim would look like in the morning and it already wasn't pretty.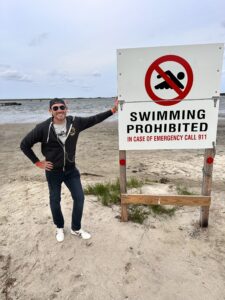 After check-in we visited another one of our crew who hosted some excellent carbo loading for us and others that were racing in the morning. Thanks man!
The weather at 7 AM wasn't too bad (yet) but setting up transition with all racing gear laid out and ready to go was not a good idea with all the rain in the forecast. So I put bike gear and running gear in their own plastic garbage bags inside my larger tri bag. I donned my wet suit and it was off to the 1.2 mile swim.
The ocean was mad. Very mad. The race organizers ended up reducing the swim distance to 750 yards. Good choice! It was one of the choppiest swims I've ever experienced. Not as bad as Escape from Alcatraz, but still not for the faint of heart. Flaying arms and legs and swells everywhere. My watch said it was a 1,000 yards so I'm going with that because that makes my pace faster 🙂 Washing down breakfast with all that salt water was not fun but with the reduced distance it only took 20 minutes during which it started raining.
There were no wetsuit strippers. Stop with your dirty thoughts, these are volunteers that help strip off your wetsuits.  I had to go through my usual spastic wetsuit removal routine. I really should practice this more! Dealing with flimsy skinny garbage bags in the rain with wet hands was not easy. I struggled to get my bike gear out and on. My transition time ended up being almost as long as my swim. 15 minutes. Embarrassing.
Then it was finally off to the anticipated flat bike course on the closed down Wantagh Parkway. The winds picked up something awful. On the first stretch they were blowing a good 25 MPH with even higher gusts. I got as aero as possible and muscled through it. I finally got into a rhythm and really enjoyed my first longish sustained effort on my new ride. The course wasn't exactly as flat as advertised.  There was a near constant steady incline from Jones Beach to the turn around at the Jericho Turnpike.  Race guide says it was 750 ft of elevation gain. My Garmin recorded 2,000. Either way, no big deal at all with no real climbing.
I was elated to see an average speed of almost 19 MPH after 28 miles. That is very high for me. I tried to keep it up on the second loop but lost a bit of steam. Some of the wind gusts were pretty dangerous causing me swerve one to two bike widths when they hit.  Fortunately, no one was next to me at the time.  I ended up averaging 18 MPH over 56 miles with a bike split of just over 3 hours. That's faster then I've rode in years, so I was really happy. Engine improvement work continues.
T2 (Transition from Bike to Run) usually takes 3 to 5 minutes max. How hard can it be to run your bike to the rack, replace bike shoes with sneakers, a helmet with a cap and run out?? Well, add in rain, getting out of wet socks, putting on dry ones, dealing with wet plastic bags, severe abdominal cramping and voila, T2 was over 10 minutes. What ever. Only a half marathon left before the finish.
The run out chute from transition had some really big unavoidable puddles. So much for dry socks. My feet were soaked from the get go and the non-stop rain and many other large puddles would keep them that way. The rain was unrelenting, heavy at times, and the wind blowing at over 30 MPH in certain sections. Just brutal. Standing in a porta-potty that was being shaken pretty violently was unsettling. Especially with water coming in from all directions through the ventilation holes.
One foot in front of the other and continued forward momentum was the only viable strategy for the two loop, 13.1 mile run course.  Then 2 hours and 47 minutes later it was all over with another finisher medal to add to the collection and another race adventure that won't soon be forgotten.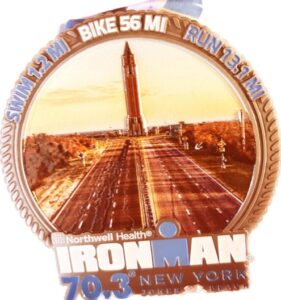 Adding to the experience was witnessing a marriage proposal between the two finishers ahead of me. It was super heart warming to see. This is common practice at many race but I've never seen it first hand. I totally forgot about it afterwards, I had cramps to deal with. A few days after the race I get a call from a friend of mine asking me if I raced over the weekend. He then sent me the pic below of me photobombing the auspicious event.  My friend's nephew, who I know, was there documenting the event for the groom and bride to be and forwarded the pic to my friend. Small world!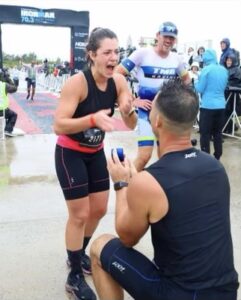 Hats off to the race director, Corey Roberts, and race organizers for putting on an incredible and safe event despite all the challenges they faced.  All the volunteers were fantastic as usual and put up with the same severe conditions as the athletes. Every interaction for liquids, gels, fruits and snacks was always met with a smile and great attitude. Kudos to race leadership for the volunteer culture they've established.
My two buddies had a killer race, finishing only 30 seconds apart at just over 5 hours. A peer from TMB Racing took 2nd place in that age group with a 4:18 finish. Respect! I was hoping to finish sub 6 but considering the conditions, won't complain with a 6:42. Would love to repeat this race again in hopefully drier conditions.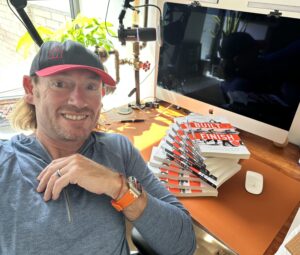 On the book front, the ARC is finally here!  ARC stands for Advanced Reader Copy. This is paperback version that the publisher's sales force will use to sell the book to Barnes & Noble, airport book stores and other retailers. It's also used for one last proof read by a new set of eyes that hasn't seen it yet to ensure all final typos and other corrections are made before we go to print. Launch date is January 30th.
If you would like a .PDF version of the book (can be loaded to a Kindle or other eReader) please leave your name and email below.  I will be emailing it out at the end of next week. All I ask for in return is a review on AMAZON on launch day. An order would be equally appreciated too :-).
If you do find the book on-line please don't pre-order just yet. Stay tuned for more info.  Thank you for your support!